Buck
Character Information
Playable?

No

Gender

Male

Make Model

Lux Motors Co. Piston Cup V8

Alignment

Neutral

Body Color

Green, black

Eye Color

Green (blue in some versions)

Occupation

Piston Cup Racer

Performer

Unknown
Children: Becky (daughter)
Cars: The Video Game
Edit
Buck appears in all 5 Piston Cup Races, he normally places 10th in every race, though on the first lap, he happens to fall behind the other cars in his "pack". He is like all other NPC Piston Cup Cars, a clone of Joltsen.
Buck is black and green with the number 56 (sometimes 34), sponsored by Trunk Fresh. His rear bumper reads "Smell ya later!" (Which disappears on the Wii and Xbox 360).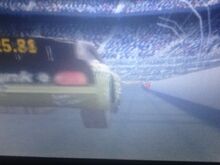 Due to that Buck falls back behind his pack during the first lap, some people mistakenly put it that Medford is faster than him, when he is not.
Buck is the only car to have the same voice set in all five story mode races.
Buck is one of four cars to not have a unique pit road banner on the Wii version of the game, along with Turner, Guenther, and Zeb.
Buck and McCoy are the only cars who lose their bumper texts on the Wii and Xbox 360.
There is a very high possibility that Buck is named after real NASCAR driver Buck Baker.