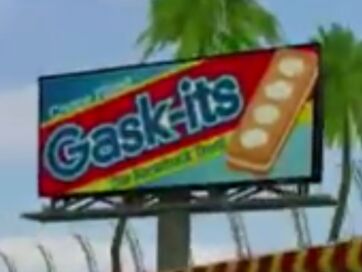 Gask-Its are a product seen on billboards and walls throughout the series.
Description
Edit
It is a type of snack, similar to a twinkie. It is referred to as "The Racetrack Treat". It may also be a variant, as it is often described being "Creme Filled".
Appearances
Edit
Gask-Its appear on a very large amount of billboards and temporary walls in the game, it is one of the most common products in the series.
In the 2006 Cars movie and it's 2017 sequel, Cars 3, a car numbered 80 was sponsored by this product, but this car did not appear in Cars: The Video Game or Cars 3: Driven to Win.
On the Wii version of Cars: The Video Game, where each of the cars have their unique pit banners, there is a pit for Gask-Its. However, there is no car sponsoring for the product. There also are pits for Easy Idle and Shifty Drug, which don't have a sponsorer.