Masterson
Character Information
Playable?

Yes

Gender

Male

Make Model

Lux Motors Co. Piston Cup V8

Alignment

Neutral (later Good)

Body Color

Red

Eye Color

Blue

Occupation

Piston Cup Racer

Performer

Jerry Trainor
Children: Annie (daughter)
Cars: The Video Game
Edit
Story Mode
Edit
In story mode, Masterson is seen racing with the other Piston Cup cars in each of the five Piston Cup Races. In all five races, he normally places 13th.
Arcade Mode
Edit
You can't play as Masterson, but he will appear as an opponent in Piston Cup races.
Masterson is red with a checkered line on his side, along with his No Stall decals, his number can vary between 121 and 123, swapping with Suregrip.
Masterson has a blank personality (and only has a voice in Los Angeles International Speedway, which Medford uses in all other races).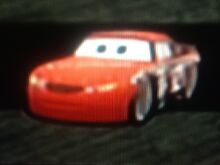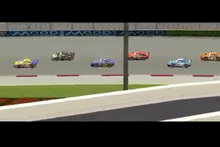 In Cars: The Video Game, he is a clone of Joltsen.
His number is 121 in Cars: The Video Game, but in the Xbox 360 Version and in Fast as Lightning, it is 123, a bio says he chose 123 since it is easy to remember.
Masterson is one of four cars whose number font changes depending on which number he has, taking on the font of Suregrip's 121 when wearing that number.
Masterson is mentioned by the announcer as "number 121", but due to the Xbox 360 number changes, Masterson will instead bear number 123 and fall unmentioned, the quotes will instead be directed at Suregrip, who is still also mentioned by name. Guenther also shares this in common.
Although the common No Stall logo is orange (including the one on Masterson's trunk), Masterson is red.