Mike Wazowski
Character Information
Playable?

Yes

Gender

Male

Make Model

Unknown

Alignment

Neutral

Body Color

Green

Eye Color

Teal

Occupation

Monster Trucks Inc. Employee

Performer

Ivar Brogger
Parents: James P. Sullivan (father)
Cars: Mater-National Championship
Edit
Mike is playable only in Mike and Sulley's Last Laugh, but also appears in exploration mode in Radiator Springs once Monster McQueen is unlocked for exploration, replacing Fillmore.
He, Sulley, and Fletcher make a cameo altogether in the end scene for Big and Strong Again, where Guido is looking around after a stack of tires fall down.
Cars: Race-O-Rama
Edit
Mike competes in all 9 Guido Kart events, and is playable exclusively in Guido Kart in Arcade mode.
Mike is painted green with two tan horns on his side windows. Although he has a similar design to pitties, he does not have forklift arms, he also like the actual Mike, has only one eye.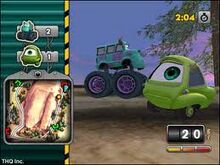 In the PS2 version of Cars: Race-O-Rama, he is not normally playable, he can only be unlocked using Cheat Codes.
Mike and VIN are the only cars to comfirm their body material, with Mike having a quote stating he is made of fiberglass.