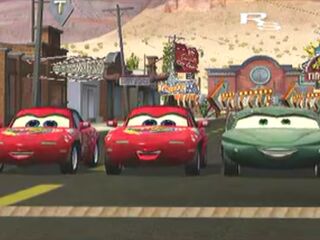 Sally's Sunshine Circuit is a road race in Cars: The Video Game.
Story Mode
Edit
In the cut scene, Sally and Lightning plan a date, but Mia and Tia join in, trying to get Lightning to hang out with them, Sally thinks they are rather charming, and Lightning has bad blood with them. Sally decides they will race, the winner will go on a drive with Lightning, Lightning disagrees, but Sally says she needs the workout. Flo also joins in, saying they can't have a "girl's day out" without her.
Sally wins the race in the end scene, saying Mia and Tia were just "groupies, no match for the real competition.". Lightning has won a date with Sally, that will later be done as Sally's Wheel Well Sprint.
(Read the "Trivia" section of this page)
Although there are 4 racers in Story Mode, there are 5 in arcade mode, in which the fifth racer takes almost half a lap longer than the other cars, also, the fastest car will no matter what be Sally, unlesss the player selects Sally.
This is Flo's only road race appearance in the first game.
The track is exactly the same as Radiator Springs Grand Prix, only backwards.