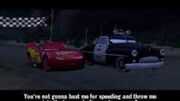 Sheriff's Chase is a road race in Cars: The Video Game.
Story Mode
Edit
Lightning sees Sheriff, and he starts to get into a fight about the time when Lightning had fallen out of Mack's trailer and wound up in Radiator Springs. Sheriff challenges him to a race, and Lightning thinks it's a trick so he can throw him in the impound again. Sheriff said he could go if he won the race.
After the race, Lightning is doing donuts, and says "I thought all cops liked donuts.". Sheriff just tells him to leave before he has him picking up trash off the highway.
The race starts on the road from Ornament Valley, into the Drive-In Theater. Then racers turn and go through Radiator Springs, back into the Nature Preserve and into a rocky trench that leads into Ornament Valley. Then racers go under a bridge, and next to a field, into another rocky cliffside, onto a short road that leads over an old-fashioned bridge, back to Radiator Springs.
This is the only event in the game to still have only 2 players in arcade mode, while all others (except Doc's Challenge, which has 4) have 5 racers, even if they had less in story mode. The opponent will no matter what be Sheriff, if the player selects Sheriff, then the opponent will either be another playable character or one of Vince, Barry, Sonny, or Lenny.
For three installments, this was the only race to be one lap and not Point to Point.
In certain regions, Lightning is said to be using a profane word ("Buggers") in the cut scene, even though the game is rated E for Everyone worldwide by the ESRB.
In Cars: Race-O-Rama, Point to Point 3 was built out of this track, only shorter and backwards.