Trophy Girl
Character Information
Playable?

Yes

Gender

Female

Make Model

Unknown

Alignment

Neutral

Body Color

Yellow

Eye Color

Blue

Occupation

Cheerleader

Performer

Jennifer Hale
Parents: Rosie (mother) 
Children: Slim (son) 
Cars: Race-O-Rama
Edit
The Trophy Girl is a yellow showgirl that is playable in Guido Kart. Two also appear in the final end scene where Lightning defeats Chick Hicks.
The Trophy Girl is yellow wearing a silver tiara with red feathers and the word "Race-O-Rama" (written in the same font as the game's title).
Personality
Edit
According to her quotes in races, Trophy Girl is nice and cute similar to Lewis, also similarly, none of her quotes tend to be a threat. She however can also be seen as very annoying.
Abilities
Edit
Trophy Girl does not display any special abilities.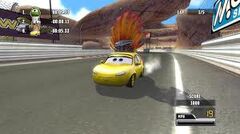 She uses the same model and design as the Dinoco showgirls from the 2006 Cars movie.
Trophy Girl and Luigi are the only characters in Cars: Race-O-Rama to be playable in both road races and Guido Kart.